What to expect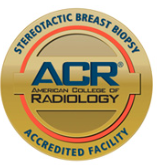 The technologist will escort you to a changing room and then to the procedural or consultation room. The procedure will be explained in detail and a series of screening questions asked. You will be asked to sign a consent form. Prior to the procedure, the radiologist will meet with you to answer any questions or concerns you may have. The procedure usually takes between 30 and 60 minutes but sometimes longer depending on the image guidance and the number of sites targeted.

During a stereotactic or MRI-guided biopsy, you will lie on your stomach with your breast positioned through an aperture in the table. During an ultrasound-guided biopsy or needle localization, you will lie on either your back or side. Mammography-guided needle localizations are typically performed while you sit in a chair.

When the biopsy is over, the technologist will hold pressure on the biopsy site for several minutes to prevent or stop any bleeding. The site will be dressed with gauze and surgical tape, and an ice pack will be placed on it to reduce swelling and bruising

After your biopsy, a physician who specializes in analyzing tissue under a microscope will prepare a report which will be reviewed and forwarded to your physician. Normally the results are available in two or three business days.