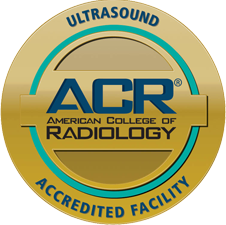 There are many advantages to imaging the body with ultrasound. Most importantly, there is no ionizing radiation (X-ray), which is why ultrasound is used during pregnancy. Furthermore, since ultrasound images are captured in real-time, they can show the structure and movement of the body's internal organs, as well as blood flowing through blood vessels.
What to expect
Ultrasound exams are performed by a sonographer, a technician trained in ultrasound imaging. After you are positioned on the padded exam table, the sonographer will apply some warm gel on your skin and then place the transducer against your body, while applying pressure – moving it back and forth over the area of interest until the desired images are captured.
There is usually no discomfort as the transducer is pressed against the area being examined. If the study is performed over an area of tenderness or through an opening in the body, you may feel pressure or minor discomfort from the transducer.

Once the imaging is complete, you may be asked to wait for a short period of time while the sonographer reviews your study with the radiologist. After the study, you should be able to resume your normal activities immediately. A final report will be sent to your referring physician.

Ultrasound exams are typically less than 30 minutes.